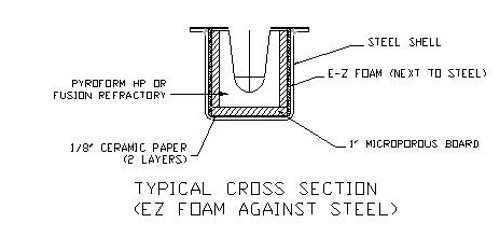 10 4月

Aluminum Silicate Ceramic Launder

Aluminum Silicate Ceramic Launder

The ceramic fiber blanket provides a superior heat barrier, minimizing heat loss and shell temperatures. E-Z Foam, from RMG, serves several purposes, including insulation, a non-wetting barrier to protect the steel, stabilizing the refractory to reduce crack propagation and increase service life.

Aluminum Silicate Ceramic Launder Design: The ultimate goals in a given launder design are to 1) maximize the metal velocity for a given flow rate without creating turbulence or excessive wear on the refractory, 2) minimize the area where the molten aluminum is exposed to air, 3) maximize the area where the molten aluminum is exposed to the refractory, and 4) make it easy to paddle and clean. Rex Materials has a proprietary standard design to accomplish these goals. The basic shape or contour stays the same while the dimensions change in a way which optimizes the metal velocity at any given flow rate. It also minimizes radiant heat losses by reducing the surface area of the metal exposed. Rex Materials currently has 8 sizes (or Styles) to cover a broad range of casting flow rates. This design ultimately results in the lowest possible temperature drop. The faster the metal travels and the less area exposed to the air the lower the heat loss in any given system.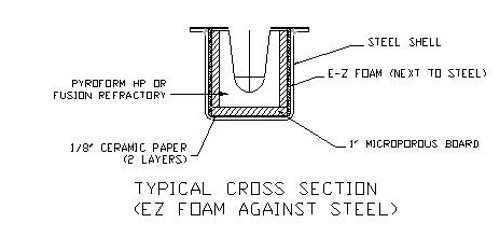 Ceramic Launder Steel Structure : The purpose of the steel structure is to provide proper elevations and connections with adequate drainage. It has to withstand the cast house environment and have virtually no deflection under load. It must be easy to assemble yet have adjustability. The structure provides the needed protection to launder material and backup insulation. Reducing the steel temperatures as mentioned above is critical to eliminate distortion of the steel from excess heat. Rex Materials recommends that launder systems be designed with a 0.5° maximum slope (5 mm/meter max., 2-3 mm/meter recommended). Greater slope angles can contribute to turbulent flow conditions and result in the need to increase the launder section size on long launder systems. The desired angle will provide just enough slope to facilitate metal drainage at the end of the cast without the need for paddling or scraping the launders. RMG recommends that residual metal skull be allowed to freeze in the launder, while being broken into manageable sections for easy removal using dams or pads of blanket. All Rex Materials' launder materials are highly non-wetting to molten metal given routine release coating, so the skull shrinks away from the refractory and is easily removed for remelting. Application of release coatings will improve upon the inherent non-wetting properties of all launder materials.
Aluminum Silicate Ceramic Launder: Whether using a HPMDS or an old launder system with dense castable, the addition of covers will reduce the heat loss up to 60% depending on the flow rate and other parameters. They are also safer to work around. Rex Materials provides a variety of covers including hinged, lift off or pushback for easy access. Rex Materials can offer pneumatic operations, counter balancing, or any feature one desires. They use fully retained lightweight Pyrolite? ceramic fiber board or insulating blanket in a steel shell. Pyrolite is very buoyant in aluminum and, hence has never been associated with molten metal inclusions. An example is given in Picture 2 below.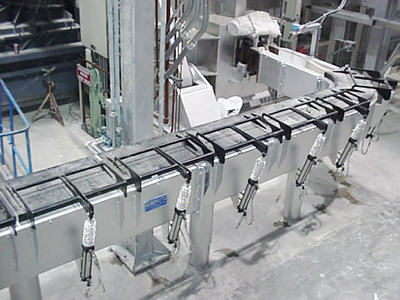 Aluminum Silicate Ceramic LaunderPreheated: Depending on the flow rate of a system, preheating may be required. Preheating a launder system reduces heat loss on start up. The traditional preheat method uses a gas flame via torches to heat the refractory. Rex Materials does not recommend this practice and advises if done, only use a lazy blue flame. Overheating a refractory can degrade non-wetting agents and shorten its life. Rex Materials recommends using an electrical heated cover system or hot air blowers for preheating. With higher flow rates, Pyroform HP, and in some cases, Fusion SL, absorbs so little energy at the start that pre-heating of the launder can be eliminated except when drying or when very accurate process control is required. The elimination of preheating may also reduce process cycle time.
Aluminum Silicate Ceramic Launder Electrical Heated Covers: These launder covers incorporate heating elements. Not only do they provide preheating, but they can also be used when very precise temperature control is called for by the process. RMG heaters are capable of heating systems to near steady state conditions, if required. Various control strategies are available. Picture 3 below shows an actual cover when in service.