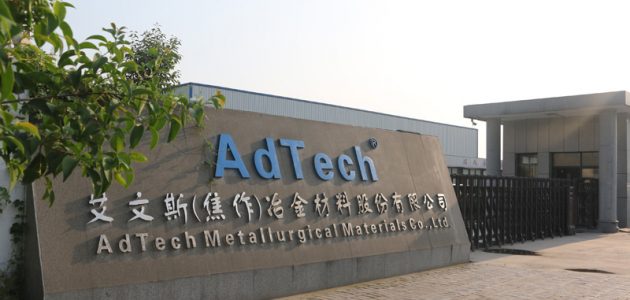 Company Introduction
AdTech Metallurgical Materials Co., Ltd.'s products have a very wide range of applications, which are mainly used for casting alloy in civilian areas such like electronics products, furniture, solar equipment, construction, and industrial areas such as autos, high-speed rails, also covering aviation and military fields. They are widely used in metallurgical and casting industry of nonferrous metals, for example, steel, copper, magnesium, etc.
AdTech's products are manufactured with quite powerful processing engineering and very advanced producing technology, as below,
On-line degreasing filter facilities adopt Japanese technology, with reasonable design structure. The hydrogen cleaning efficiency is stable at 60% and up to 80%;
Ceramic foam filter adhibits American technology, which is sintered under high temperature by Al2O3-type molten material. It is with high strength and super adsorption property, which can effectively filter micron inclusions in aluminum liquid;
Hot top casting parts are made of refrasil material, with high strength, aluminum rejecting and persistent service life;
Roll casting nozzle is using nanometer natural fiber composite material under integral molding, with high precision, not easy to carbonizing and deforming.
In AdTech's neat workshop, you will see every team making great efforts here every day, with skillful operating techniques and under highest professional standards, from product material to each process, from internal quality to outer appearance, from process inspection to storage acceptance, from delivery to customer usage. AdTech's management is under full control and service tracking, with truthful feedback and upgrading innovation. In this way, AdTech's products continue to move into the international market, winning worldwide praise!
Enterprise basic situation
AdTech is a Sino-foreign joint venture enterprise which integrates research& development, production and service together for metallurgical materials. Located in Wenxian, China, AdTech covers an area more than 700 ares, with existing standardization workshop and warehouse together more than 20,000 square meters. Our office building is as large as 1,988 square meters and registered capital is CNY 12, 000,000. AdTech serves customers from Middle East (Bahrain Aluminum, Dubai Aluminum, Midal Cables), Southeast Asia (Qili, GVA, Jindal, Chalco, China Zhongwang), Europe (Hydro, Rusal) etc. Established long-term cooperative relationships, AdTech is a worldwide supplier and solution provider of functional materials for metallurgical and foundry industry.
AdTech is an internationalization enterprise acting as the persistent brand trailblazer, concentrating on R & D and manufacturing online degassing and filtrating equipment, ceramic foam filter, hot-top casting materials, nozzle board, repair coating material and flux.
Established in 2012, China factory of AdTech has been put into production by the end of 2013. With 5 years scientific running, AdTech China factory has acquired the ISO 9001 quality system certification and ISO 14001 environmental assessment certification and SGS operation certification. Now AdTech China factory owns 168 employees, including 25 college (and above) staffs, 15 staffs with senior (and above) professional titles. We have successively opened up an integrated system of aluminum refractory materials business in civilian areas, industrial areas, military fields, etc., researched and developed dozens series of product, which fully meets the requirement of customer for various orders. All these efforts enable AdTech developing rapidly and act as the industry leader.
Producing Capacity
AdTech owns an initial annual output of 400,000 ceramic foam filter production capacity, an annual output of 1 million sets of hot-top casting material capacity, an annual output of 40 high-precision degassing filter equipment, an annual output of 1200 sets Roll casting nozzle material capacity, etc. We hold more than 50 percent market share in the related industry market, with superior global brand popularity. Our export capacity is also comparatively strong. At present, AdTech is between two of the best in comprehensive product quality and influence in refractory industry.