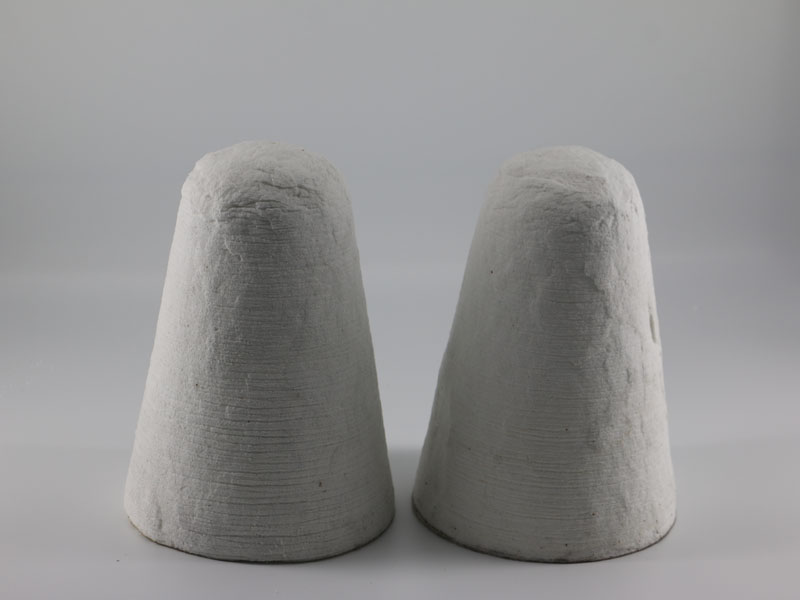 08 3月

Tap Hole Cone Heating Insulation

Tap Hole Cone Heating Insulation does not affect the aluminum alloy composition during the casting process. Contains aluminum silicate fiber, also known as ceramic fiber. It is a new type of lightweight refractory material.

Ceramic fiber open-hole cone is a ceramic fiber molded product that meets the requirements of refractory and thermal insulation for some special parts of thermal equipment.
The product is a non-brittle material with high strength and accurate size, and can be produced in various forms according to customer needs.
The product has a good fire and heat insulation effect and can directly touch the flame.
The ceramic fiber opening cone is strong and can seamlessly touch the lining.
Heat storage and heat loss are low.
The hot surface is in direct contact with the flame.
Excellent construction and installation performance.
Excellent thermal shock resistance, high compressive strength and long service life.

The production process of Tap Hole Cone Heating Insulation
Using the wet vacuum forming process, the fiber raw cotton is first cut into pieces suitable for classification, mixed into a slurry, and then placed in a metal mold of a fixed size. The metal mold wall is provided with drainage holes and connected with a vacuum pump.
Nylon gauze should be placed on the inner layer of the metal mold to prevent the fiber cotton from overflowing during the extrusion and vacuum process.
The specifications of the molded product can be adjusted according to the suction and squeezing force.
AdTech selects 1260℃ ceramic fiber, adopts vacuum forming, precise technology and advanced equipment to make the surface of each tapping hole cone smooth.
More importantly, the hardness and toughness are appropriate, not fragile, not peeling, suitable for mechanical or manual plugging and removal operations.
Used for blocking the aluminum outlet of aluminum smelting furnaces and stationary furnaces.
It is suitable for the insulation of aluminum smelting furnace, refining furnace, solidification furnace, and discharging furnace, making aluminum and aluminum alloy casting more convenient, safe and reliable.