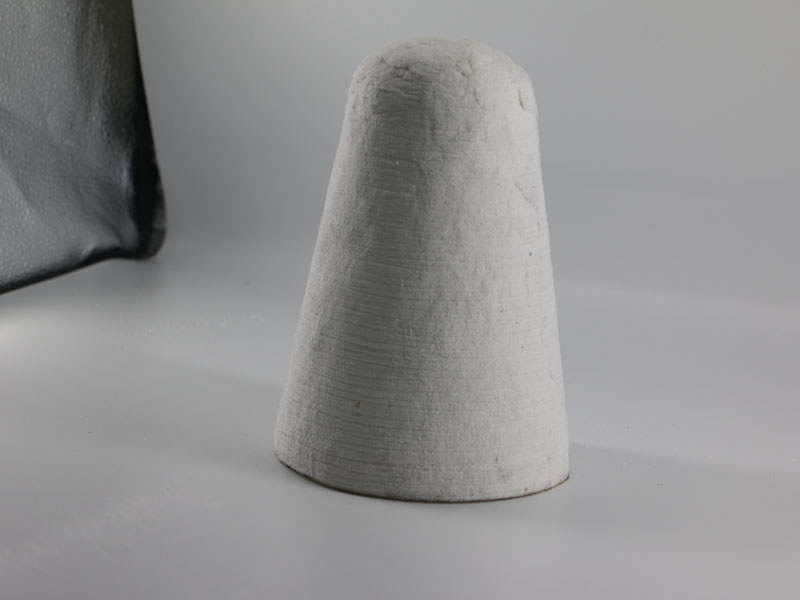 08 3月

Ceramic Fiber Aluminum Silicate Tap Hole Cone

Ceramic Fiber Aluminum Silicate Tap Hole Cone is a hard or semi-hard refractory fiber product produced by vacuum wet molding with refractory fiber raw cotton as the main raw material.
In the production, according to the different physical and chemical performance requirements of the finished product, select appropriate varieties of refractory fibers, adhesives, fillers, flocculants, etc., mixed with water to form a slurry, and adjust to a certain concentration and PH value.
Then it is injected into a mold with a filter screen, vacuum dehydrated, molded, demolded, dried, and finally processed to obtain a finished product.

Some special-shaped vacuum forming plug products can also provide customers with inventory, such as casting cap shells in the non-ferrous metal industry, vacuum forming in the petrochemical industry, and fire-proof holes.
The physical and thermal properties of various molded products are generally similar to those of corresponding brands of vacuum forming panels.
Most aluminum smelting furnaces or holding furnaces in the aluminum casting industry have aluminum nozzles, which are sealed with high-temperature ceramic fiber plugs to control the flow of aluminum water.
The ceramic fiber plug is made of high-purity ceramic fiber cotton under vacuum forming at 1260℃, special equipment, advanced equipment and production technology.
Each ceramic fiber plug has a flat surface, appropriate hardness and flexibility, and is suitable for mechanical or manual leak plugging.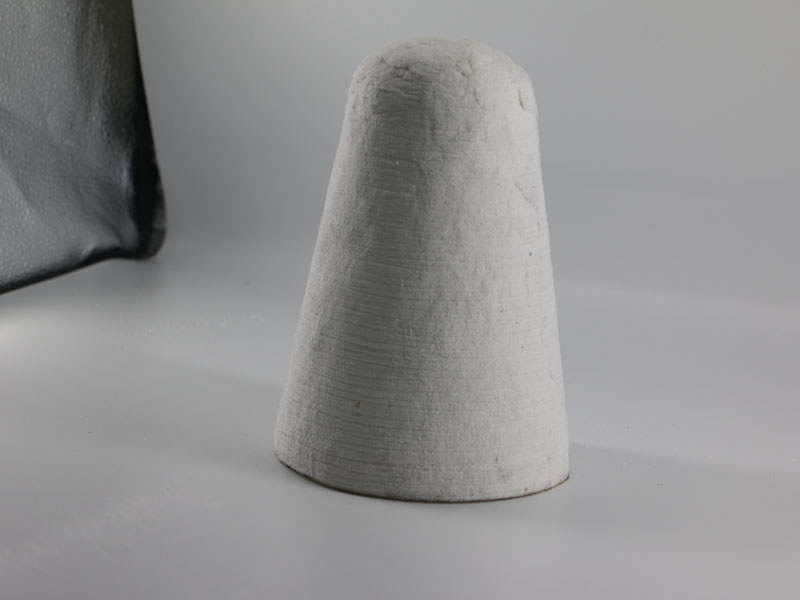 Product Features of Ceramic Fiber Aluminum Silicate Tap Hole Cone
1. High temperature stability, thermal shock resistance, corrosion resistance
2. Low heat capacity, low thermal conductivity
3. Excellent structural strength (soft and hard controllable)
4. High dimensional accuracy
5. Excellent heating and heat insulation performance
Refractory ceramic fiber paper is made of refractory fiber cotton as the main raw material. It is a paper-like material with uniform structure and good flexibility produced by conventional papermaking technology.
The use temperature of refractory ceramic fiber paper and cotton produced from refractory materials has different classifications, such as ordinary type, high-purity type, high-aluminum type…
Ceramic Fiber Aluminum Silicate Tap Hole Cone uses high-quality ceramic fiber cotton as raw material, and adopts vacuum suction filtration molding process.
Ceramic fiber is a fibrous lightweight refractory material. It has the advantages of light weight, high temperature resistance, good thermal stability, low thermal conductivity, small specific heat, and resistance to mechanical vibration.
Each tap of non-ferrous metal casting has a flat surface.
More importantly, it has proper hardness and toughness, is not fragile or peeled off, and is suitable for mechanical or manual operation.
AdTech offers a wide range of vacuum-formed refractory taps. For details, please visit www.adtechamm.com or contact Sales@adtechamm.com.
The shape of various hardness grades can be customized according to customer requirements. Custom cutting and machining can also be used for finished parts.