03 9月

Ceramic foam filter molten metal filtration

Ceramic foam filter molten metal filtration

The manufacture of aluminum ingots and billets for the production of high-quality aluminum products requires that molten aluminum be relatively free of inclusions, such as insoluble solids or immiscible liquid impurities.
This is necessary so that the ingots or billets after further production meet the stringent requirements for high-quality products.
such as rigid and flexible packaging materials, products for the aerospace industry (extruded profiles, thin and thick sheet metal, forgings), lithographic products, cooler tubes for the automotive industry and brilliant finishes.
In the manufacture of molten aluminum, insoluble impurities or inclusions are formed throughout the metal extraction from the ore, aging, alloying and casting.

In the process of primary electrolytic reduction of impurities and inclusions, insoluble alumina, aluminum carbides, sodium aluminum fluoride from the electrolyte bath and gamma alumina crust are formed.
At the stages of aging in the furnace and alloying, impurities and inclusions form alumina-magnesian spinel, magnesium oxide, gamma-alumina peels and furnace stock. During metal transfer during casting, impurities and inclusions form chloride salts, clots of titanium boride, destroyed refractories and crusts of gamma-alumina.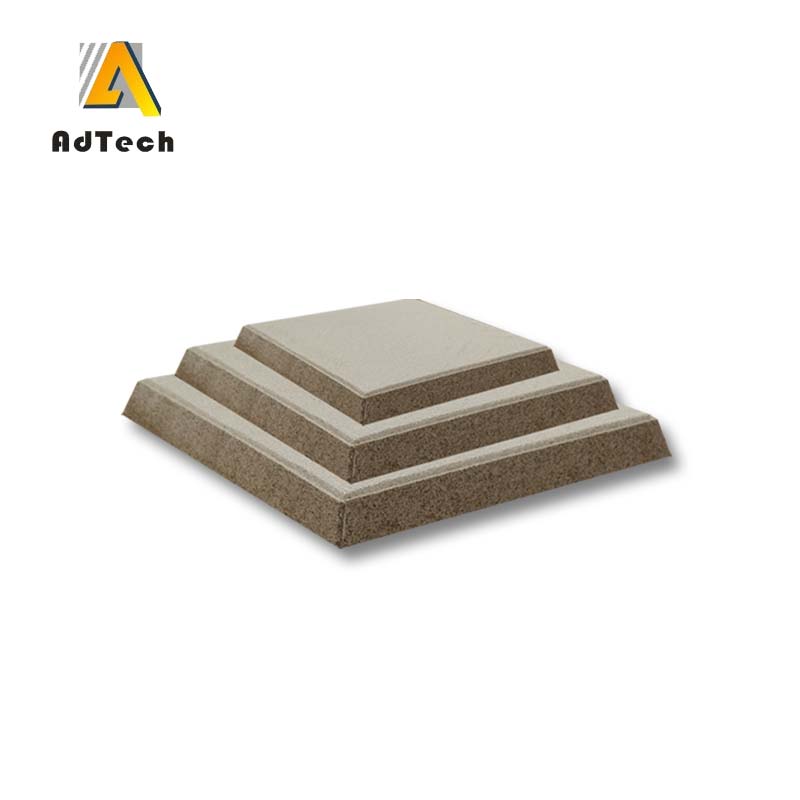 Ceramic foam filter molten metal filtration is advisable to remove inclusions by filtration at the last technological stage before curing the molten aluminum into an ingot or billet.
Ceramic foam filter molten metal filtration for use in aluminum foundries were developed in the early 1970s, the first industrial application of the technology taking place in 1974 in the manufacture of flat ingots for the production of thin and thick rolling materials.
Ceramic foam filter molten metal filtration is monolithic disposable replaceable filters used for single casting.
The pore size of the filter is from 4 to 28 pores per cm (10 to 70 pores per linear inch), which corresponds to a pore diameter of approximately 0.036-0.26 cm. Ceramic foam filters are usually made of square cross-section with dimensions from 22.86 cm × 22. 86 cm × 5.08 cm to 66.04 cm × 66.04 cm × 5.08 cm with a 17 ° edge bevel for fitting into a refractory filter bowl.
A fiber paper seal is attached to the edge chamfer to provide a lateral compression load to hold the filter in the filter bowl and prevent metal from going around the edge of the filter.
The fibrous material of the seal usually has a thickness of about 0.317-0.476 cm and usually consists of silicate fiber.
Often vermiculite is added to the seal material, which expands when heated to increase the seal pressure.
The typical duration of use in molten aluminum is from 30 to 120 minutes.
The use of aluminum oxide granular material in a ceramic foam filter should seem an obvious choice to any person skilled in the art of refractory materials used to contain molten aluminum and its alloys.
Alumina is relatively chemically inert in molten aluminum and its common alloys, including alloys containing magnesium.
It is also widely used as a granular material in refractories used in furnaces, both for melting and for containing molten aluminum alloys.
In addition, before the advent of disposable replaceable ceramic foam filters for filtering molten aluminum, filters with lamellar alumina filler were used.
Ceramic foam Filter with a filler is large heated vessels containing unbound grains of lamellar alumina, used for repeated castings for several days or even weeks.
The long exposure time of molten metal with unbound aggregated materials, such as in filters with fillers and refractories, requires the use of a chemically inert granular material such as aluminum oxide.
However, alumina has a relatively high coefficient of linear thermal expansion (8.0 × 10-6 / ° C), and monolithic forms of alumina, such as ceramic foam filters, have low heat resistance due to high thermal stresses created by a combination of thermal gradients in the result of uneven heating and a high coefficient of thermal expansion. During preheating and initial contact with molten.