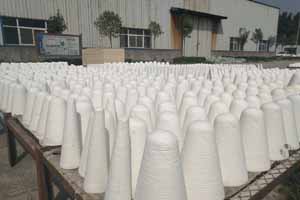 19 9月

Refractory Ceramic Fiber Cone

Refractory Ceramic Fiber Cone

Aluminum silicate high temperature plug description:

It is a ceramic fiber shaped product that is oriented to meet the fire resistance and heat insulation of special parts of certain thermal equipment. The product is non-brittle material, high in strength and accurate in size. It can be produced according to customer's needs. The product has good quality. Refractory and heat insulation effect, can directly contact the flame.

Typical applications: industrial kiln observation holes, thermometer insertion holes, industrial kiln burners, furnace doors, non-ferrous metal grooving, grooved lining, casting caps, electromechanical equipment connection gaskets;

Most aluminum smelting furnaces or holding furnaces in the aluminum foundry industry have aluminum outlets that are sealed with high temperature resistant ceramic fibers.

Ceramic fiber plugs are also called water furnace mouth insulation plugs, insulation plugs, insulation plugs, insulation caps, insulation plugs.

AdTech uses 1260 ° C ceramic fiber through vacuum molding, precision technology and advanced equipment, so that each block has a flat surface, more importantly, the appropriate hardness and toughness, not easy to break, not peeling, adapt to mechanical or manual Plugging and removing operations.

It is applied to aluminum melting furnace, static furnace and other aluminum water blocking furnace. It is suitable for aluminum melting furnace, refining furnace, static furnace and water outlet, which makes the aluminum and aluminum alloy casting process more convenient, safe and reliable.