Molten Aluminium Degassing Agent separates oxides and other slag from molten aluminum. The chemical properties of aluminum and its alloying elements are very active and easily form oxides, nitrides, carbides and sulfides.
When melting aluminum ingots and aluminum chips, these impurities enter the solution. The rotation, excessive stirring and movement of the ladle will cause more impurities to enter the molten aluminum.
Another strong oxidizing factor is the moisture content of the feed and the high proportion of waste.
Many foundries are improving the efficiency of using Molten Aluminium Degassing Agent to process molten aluminum, including various particle sizes and impregnation methods.
Or use a slag pipe or spray gun to spray the refining agent below the liquid surface and float to the liquid surface, so that the refining agent can contact more liquid aluminum to capture more oxides and make it float in the liquid. Surface noodles.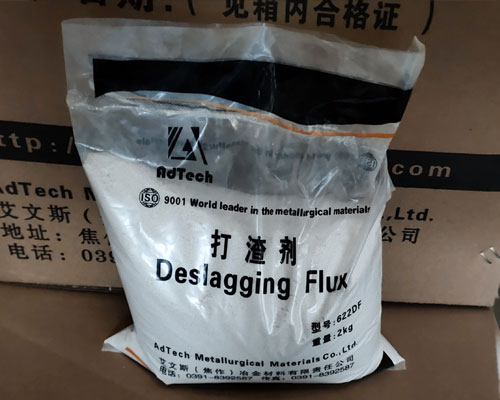 The refining agent AdTech is white powder or granule, and its main components are chloride and fluoride salts, as well as other compounds.
After proper heat treatment and sieving, the particle size remains uniform, which is beneficial to the refined container in the carrier. The gas (N 2 or Ar) uniformly enters the bottom layer of the molten aluminum, forms numerous small bubbles in the molten aluminum through physical and chemical changes, fully contacts the molten aluminum, and separates harmful gases such as [H].
At the same time, certain substances contained in the refining agent can strongly adsorb and melt the oxides and suspended matter in the melt, and combine with the bubbles. As the bubbles rise, they will be brought to the surface of the molten aluminum to achieve degassing. The purpose of slag.
Other refining Purposes of refining. Environmentally friendly and economical, it meets the production requirements of high-tech and high value-added precision aluminum alloy castings for aviation and transportation.
Русский перевод
Дегазатор расплавленного алюминия отделяет оксиды и другой шлак от расплавленного алюминия. Химические свойства алюминия и его легирующих элементов очень активны и легко образуют оксиды, нитриды, карбиды и сульфиды.
При плавлении алюминиевых слитков и алюминиевой стружки эти примеси попадают в раствор. Вращение, чрезмерное перемешивание и движение ковша приведет к попаданию большего количества примесей в расплавленный алюминий.
Еще одним сильным окислительным фактором является влажность корма и высокая доля отходов.
Многие литейные предприятия повышают эффективность использования дегазатора расплавленного алюминия для обработки расплавленного алюминия, включая различные размеры частиц и методы пропитки.
Или используйте шлаковую трубу или пистолет-распылитель, чтобы распылить рафинирующий агент под поверхностью жидкости и всплыть к поверхности жидкости, чтобы рафинирующий агент мог контактировать с большим количеством жидкого алюминия, улавливать больше оксидов и заставлять его плавать в жидкости. Поверхностная лапша.
Рафинирующий агент AdTech представляет собой белый порошок или гранулы, а его основными компонентами являются хлоридные и фторидные соли, а также другие соединения.
После надлежащей термообработки и просеивания размер частиц остается однородным, что благоприятно сказывается на очищенном контейнере в носителе. Газ (N 2 или Ar) равномерно входит в нижний слой расплавленного алюминия, образует многочисленные маленькие пузырьки в расплавленном алюминии в результате физических и химических изменений, полностью контактирует с расплавленным алюминием и отделяет вредные газы, такие как [H].
В то же время определенные вещества, содержащиеся в рафинирующем агенте, могут сильно адсорбировать и плавить оксиды и взвешенные вещества в расплаве и объединяться с пузырьками. Когда пузырьки поднимаются, они будут подниматься на поверхность расплавленного алюминия для достижения дегазация.Назначение шлака.
Прочая переработка Цели переработки. Экологически чистый и экономичный, он отвечает требованиям производства высокотехнологичных и высокоточных отливок из алюминиевых сплавов для авиации и транспорта.