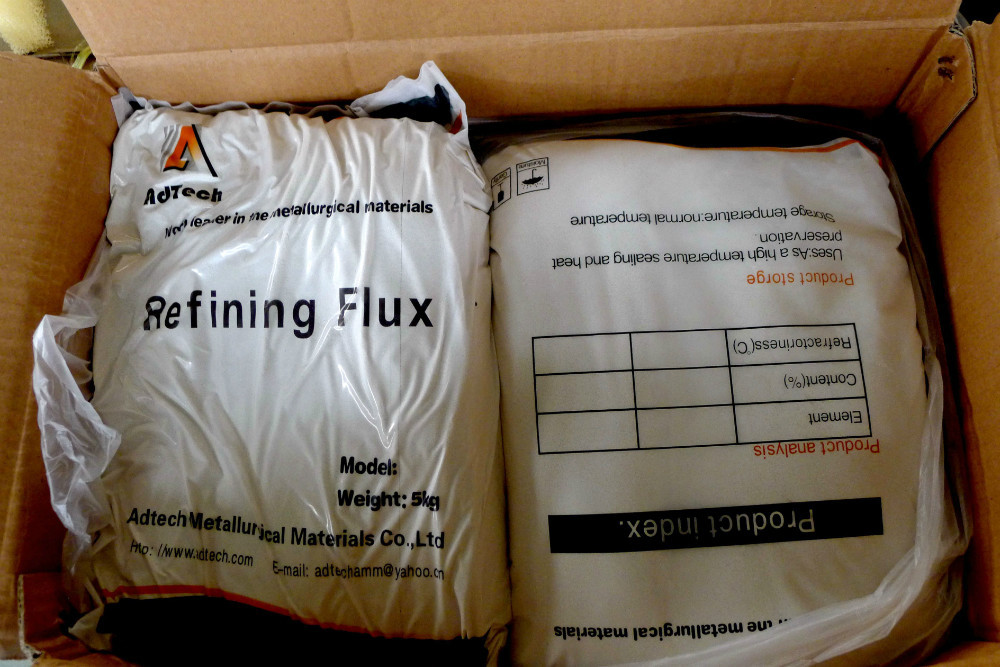 16 6月

Aluminum Granulated Flux

Aluminum Granulated Flux can effectively remove the slag contained in the aluminum liquid, can reduce the hydrogen content of the aluminum liquid, and has obvious purification effect on the aluminum liquid.
Aluminum Granulated Flux has stronger degassing capacity, less consumption, and does not play a chemical role with metal and furnace lining.
Control heating effect, reduce metal burning loss, reduce aluminum oxidation burning loss rate, reduce aluminum slag output rate.
The microstructure of the aluminum alloy round ingot after smelting is evenly dense, and there are basically no defects such as looseness and slag inclusion.
Increased the uniformity of the internal structure of the aluminum alloy round ingot and the refinement of the grain.
The quality and processing performance of aluminum extrusion alloy profiles in the subsequent process have been improved.
Improve the yield of aluminum alloy round ingots.

Aluminum and aluminum alloy melt purification methods include filtration purification, non-adsorption purification and adsorption purification.
Among them, the filtration and purification treatment volume is small, the filter medium needs to be replaced regularly, and the operating cost is high.
Non-adsorption purification mainly includes vacuum purification, ultrasonic purification and electromagnetic purification, but the equipment investment is large and the operating cost is high.
Adsorption purification mainly includes gas refining method and refining agent purification method. Among them, the refining agent purification method has been widely used in actual production due to its advantages of easy operation, low price and good purification effect.

The Refining Flux disclosed in China generally contain one or more of sodium salts such as sodium chloride, sodium fluoroaluminate, sodium carbonate, sodium sulfate, sodium fluoride, and sodium fluorosilicate.
For example, the patent with the authorization announcement number CN 101967565 B discloses a refining agent for aluminum alloys. The components are: NaCl: 30-85%, Na2SiF6: 5-40%, Na 2S04: 5-40%, CaF2: 2-20%, C6C16: 0.5-10%. The use of this sodium salt introduces sodium into aluminum-magnesium, aluminum-copper, and aluminum-lithium alloys, resulting in a "sodium brittle" phenomenon.

CN101343699 Β's patent discloses an aluminum-silicon alloy refining agent. Its raw material ratio is: potassium chloride 15-30%, sodium chloride 15-30%, zinc chloride 2-8%, fluoroaluminate Sodium 2-8%, sodium fluorosilicate 2-8%, sodium nitrate 5-15%, graphite powder 0.5-2%, charcoal powder 1-10%, hexachloroethane 5-15%, sodium fluoroborate 1 -10%, potassium fluorotitanate 1-10%; the refining agent uses hexachloroethane, after high temperature reaction will produce chlorine gas, which will have a certain degree of adverse impact on the environment.